JOE W DAVIS MUNICIPAL STADIUM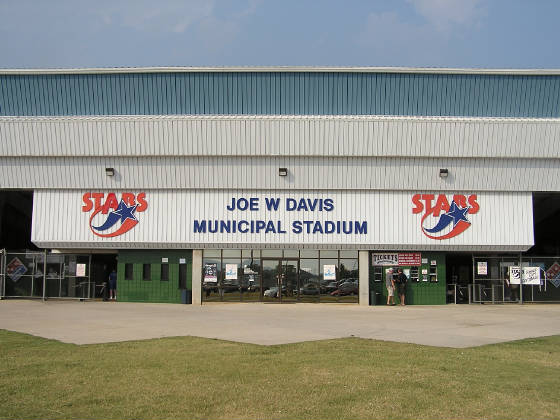 The Main Entrance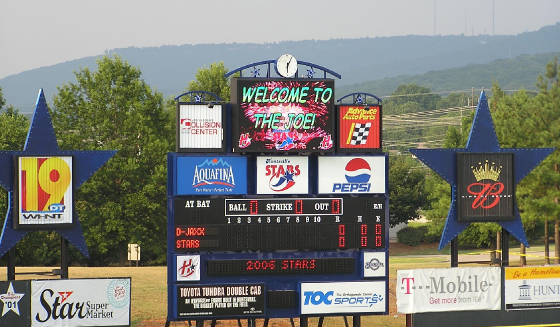 TEAM ::: HUNTSVILLE STARS
LOCATION ::: HUNTSVILLE, ALABAMA
MY FIRST VISIT ::: JULY 2, 2006
OPPONENT ::: WEST TENNESSEE DIAMOND JAXX
LEVEL ::: SOUTHERN LEAGUE 'AA'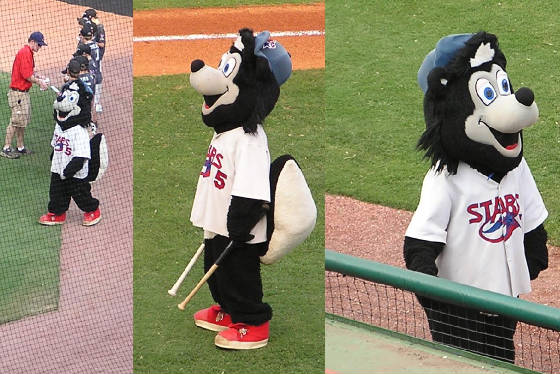 RATINGS

BALLFIELD ::: B -
SCOREBOARD ::: B
FOOD ::: B +
FACILITIES ::: A
MASCOT ::: A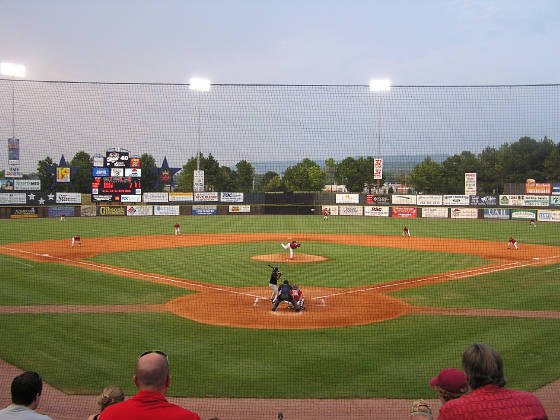 MY TAKE ON THE PARK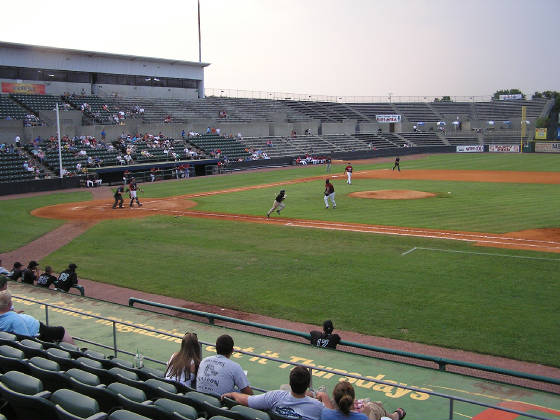 LOCATED OFF THE BEATEN PATH IN HUNTSVILLE, ALABAMA SITS A HUGE STADIUM WHICH IS THE HOME OF THE DOUBLE A BREWERS, THE HUNTSVILLE STARS. ONCE THE STADIUM IS FOUND AND YOU GET PAST JUST HOW BIG THIS PLACE IS, IT IS A PRETTY GOOD PLACE TO SEE A GAME.

IF THERE IS ONE THING I LOVE TO DO AT A BALL PARK IT IS FIND AN EMPTY
SECTION AND JUST SPREAD OUT. WITH THE POPULARITY OF BASEBALL IN MANY TOWNS, THIS IS NOT SOMETHING THAT CAN EASILY BE DONE. IN HUNTSVILLE, YOU
CAN FIND A WHOLE CORNER OF THE BALL PARK AND SPREAD OUT!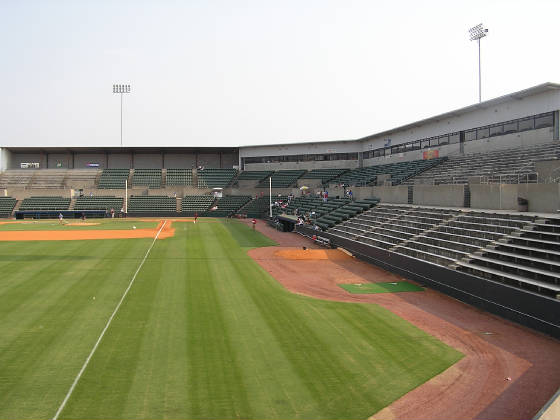 IT ALL STARTS AFTER YOU FIND THE PARK. A HUGE PARKING LOT AWAITS WHERE A FRIENDLY ATTENDANT WILL TAKE YOUR $4 AND SEND YOU INTO AN OCEAN OF PARKING. UPON ENTERING THE STADIUM, A DARK CORRIDOR AWAITS WHERE THERE IS A SMALL SOUVENIR SHOP AND CONCESSION STANDS. CONCESSION STANDS THAT
HAVE A HUGE SELECTION AND PRETTY CHEAP PRICES.

ONCE INTO THE SEATING AREA, THE STANDS EXTEND ALL THE WAY AROUND TO BEYOND LEFT FIELD. ON THE RIGHT FIELD SIDE THEY GO PAST THE DUGOUT INTO SHORT RIGHT WHERE A PICNIC AREA SITS. THE SEATING IS SPACIOUS AND
PLENTIFUL. THE SEATING AREA AROUND THE INFIELD ARE CHAIRS AND BENCHES EXTEND TO THE OUTFIELD.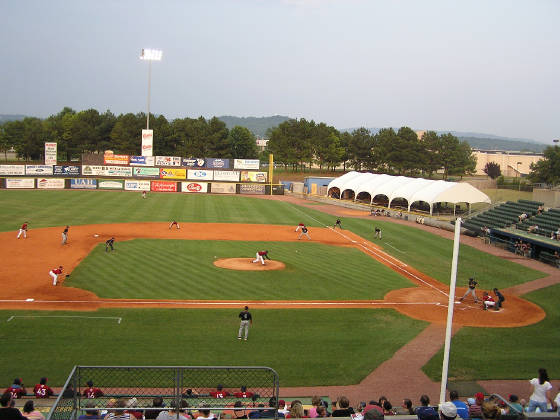 THE BEST PART OF GOING TO A GAME IN HUNTSVILLE IS BELIEVE IT OR NOT, THE GAME. THE GAME IS JUST AN ENJOYABLE EXPERIENCE HERE. BETWEEN INNINGS THERE ARE PROMOTIONS, BUT THEY ARE NOT IN YOUR FACE AND OUT OF CONTROL.
EVEN BETTER, THE MUSIC PLAYED AT THE STADIUM IS PLAYED AT A LEVEL WHERE YOU CAN HEAR IT BUT ALSO TALK TO THE PERSON NEXT TO YOU. AND, THE GAME PROGRAM YOU GET HERE IS $2 AND FULL OF INFORMATION.

A TRIP TO HUNTSVILLE WAS TO ME AN UNEXPECTED SURPRISE. THE LOCATION OF THE STADIUM AND EXTERIOR GAVE THE IMPRESSION THAT THIS WASN'T GOING TO
BE THAT GREAT OF AN EXPERIENCE. ONCE I WAS SEATED AND THE GAME BEGAN, I DIDN'T CARE ABOUT ANY OF THAT AND ENJOYED THE GAME. THEY DO A GREAT JOB IN HUNTSVILLE, THE FOOD, THE GAME , AND THE PROGRAM. ALL DONE VERY WELL
IN NORTHERN ALABAMA.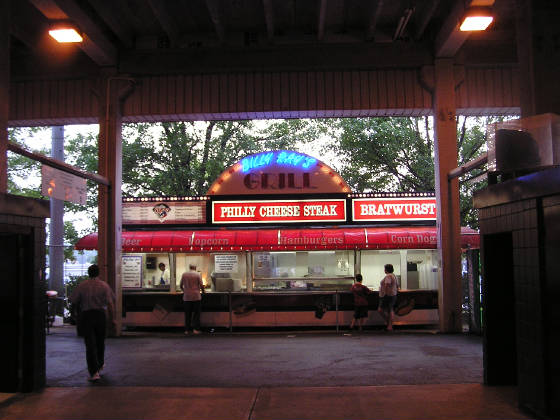 THE LINE UPS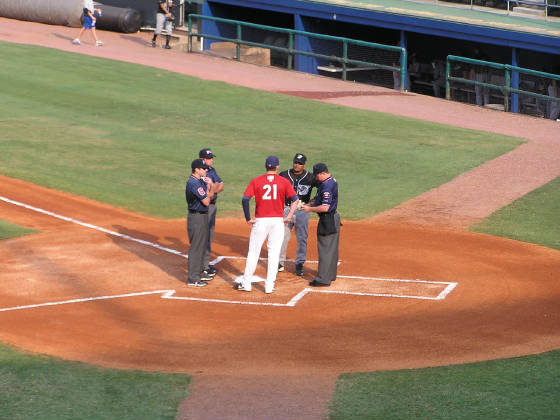 WEST TENNESSEE MANAGER :::

4 Pat Listach

HUNTSVILLE MANAGER :::

7 Don Money

WEST TENNESSEE DIAMOND JAXX

6 Chris Walker ss
3 Eric Patterson 2b
29 Nic Jackson lf
28 Brandon Sing 1b
18 Miguel Negron rf
9 Scott Moore 3b
55 Jake Fox c
8 Richard Lewis ss
40 Juan Mateo p / WP
27 Ed Campusano S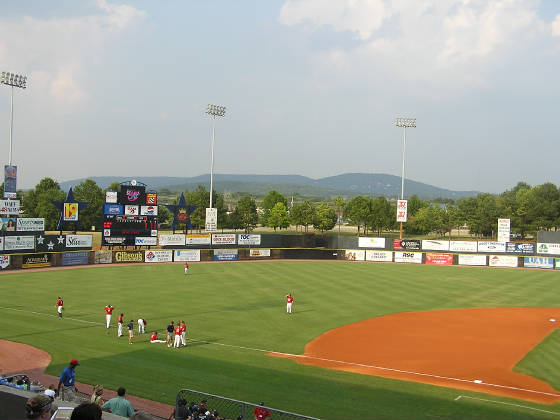 HUNTSVILLE STARS

3 Steve Moss cf
2 Callix Crabbe 2b
9 Drew Anderson lf
44 Brad Nelson 1b
28 Ryan Braun 3b
18 JC Boscan c
15 Travis Ezi rf
10 Mlko Jaramillo ss
47 Corey Thurman p / LP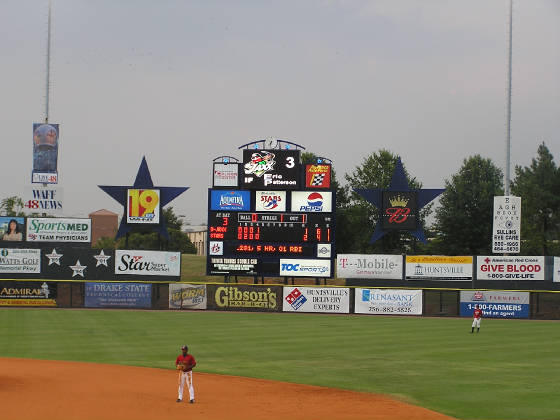 WEST TENN 000 140 200 7 14 2
HUNTSVILLE 020 000 100 3 6 1
TIME ::: 3:18
ATTENDANCE ::: 1,277
WEATHER ::: 100 Breezy, Hazy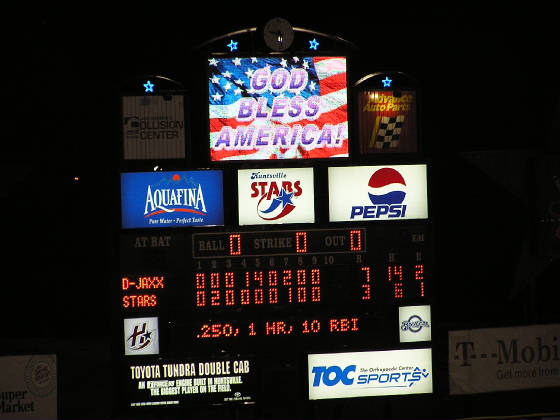 SEND ME AN E-MAIL
LINKS
The Official site of the Huntsville Stars
Huntsville weather from WEATHER.com
Site last updated :::